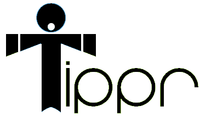 Terms & Conditions
Tippr, LLC, (an Arizona limited liability company) Tipprapp.com and Tipprpay.com will hereby be referred to as "Company" throughout this agreement. The web interface and the mobile application ("Platform") are the sole property of the Company. The terms and conditions stated in this document constitute a legal and binding agreement between you ("User") and the Company. By using the Platform, User agrees to the terms and conditions listed herein as well as those of our processor Stripe TOS. Continued use of the platform will serve as agreement of future additions/updates to these terms & conditions.

The Company reserves the right to modify this Agreement or its policies and User is responsible for regularly reviewing the Terms of Service and continued use of the Platform constitutes User's agreeing to the modifications.

The Company, through its Platform provides User with the technology necessary to send tips & payments electronically to other Users on the platform. User relieves Company of all liability and responsibility for goods or services paid for using the Platform.
Representations and Warranties

By using the Company's Platform, you represent that you are of legal age (18 years old) to enter into this agreement. User agrees to use this Platform exclusively for their personal, or business account and will not share their account information (login, tippr ID, PIN) with any other individual or company. Any breach of this agreement could result in Company terminating this agreement.
You agree that:
You will not use the Platform for unlawful, misleading, or for fraudulent purposes;
You will not attempt to copy, clone, or redistribute the Platform;
You will not try to disable, hack or harm Platform in any way;
You will not attempt to gain any personal information on other Users;
You will not use or display any copyrighted material on your account without written consent of the copyright holder;
You will keep secure and confidential your user credentials, specifically your account password and your security PIN;
You will not display another person's personal information or use their name or likeness on your account without their consent.
You will not use the Platform to operate, promote or fund terrorism or any terroist group;
You will not use the Platform to operate, promote or fund a hate group;
You will not use the Platform to operate, promote or fund a criminal enterprise;
You will provide our processor, upon request, the necessary information to prove your identity;
You will not download any hurtful, distasteful, violent, obscene, pornographic, racist, or inappropriate photo or language to your profile;
Furthermore, you give your expressed agreement that you will not:
Fish, spam, annoy, harass or solicit other users' accounts, personal or business, on the Platform;
Attempt to download or install malware, adware, files, computer programs, viruses, or any source code, harmful or otherwise, to the Platform.
Attempt to gain access to Company's database or records through the Platform.
Attempt, in any way, to discredit, defame, disrupt, disable or impair the function of the Platform.
Any violation of these conditions will result in immediate termination of the account and the Company reserves the right to report any violations listed above to the proper authorities and will, when applicable, seek prosecution to the fullest extent of the law.
Additionally, the Company reserves the right and you give your consent for the platform to debit your bank account and/or payments cards on file to recover any returned or disputed payment(s) received by you or your account on the platform. In addition to amount of the returned or disputed funds, you will be held responsible for any fees charged by the credit card company for these returned items. By using the platform you agree to hold the Company harmless for any overdrafts or non-sufficient fund charges incurred by you due to the Company's attempt(s) for recovery of the returned or disputed payment(s) to you or your account and hereby give your full consent to the Company to make these transaction.
SMS messaging

The Company will from time to time send important messages to you regarding your account and or promotional information. You acknowledge that the Company is not responsible for any message or data rate charges applied by your cellular provider.
Account Content:
You acknowledge that content you post on your profile is not private and other users on the Platform will be able to see your photo and bio.
You agree not to post personal or confidential material and release the Company from any damage arising from posting of this material.
You agree to use good judgment when posting material/content that may be deemed offensive to others. You also agree not to post vulgar, defamatory, pornographic, or abusive content or photos to your profile.
Although Company will attempt to locate and correct any inappropriate content, you agree to not hold Company responsible for content that violates these guidelines and are encouraged to report any content you feel is in violation.
Company reserves the right to monitor the content of the users and may at it's sole discretion, remove content or terminate a user's account.
Company is not responsible for the user content. User content may not reflect the views and opinions of the Company and user content should not be considered an endorsement by the Company.
Payment Terms & Fees

Payments and any associated fees are non-fundable and are due at the time of the transaction. You are responsible for any returned payments by your bank or credit card and are subject to a returned payment fee. The no refund policy remains in effect whether your account is active or terminated. User is responsible for any chargebacks, fines, unpaid, returned, or reversed payments and understands the Company reserves the right to pursue recovery of those funds by attempting reversals of transfers, including the initiation of debits from your deposit bank on file with company.
a) A fifty cent fee will be charged to the ("Tipper) whenever they send a payment. This standard charge applies and remains the same for all payments regardless of the amount.
b) The person receiving the funds ("Tippee") will be charged a fee equal to five percent of the payment. This amount is deducted from the payment prior to it being deposited into Tippee's bank.
c) For donation campaigns set up and managed by Company, there will be an additional five percent fee deducted from the campaign proceeds to cover the administrative costs and the dispersal and distribution of funds for that campaign.
d) Stripe may charge a monthly active account fee which will not exceed fifty cents per month, and will only be charged for the months in which you receive payments through our platform.
e) A twenty-five cent fee may be applied for each deposit/payout you receive to your bank account. This is not a per transaction fee, but rather a per deposit fee. If multiple payments are deposited together, there will only be one fee.
User acknowledges that the Company uses Stripe, a third party processor, as the payment gateway for transactions. User hereby authorizes Company to pass their payment information to the processor for the purpose of completing financial transactions. Fees charged by Stripe for completing said transactions are paid through the items listed above.
Ownership

Company owns all rights to the Platform. User understands that they have been granted a right to use the Platform and acknowledges the use of the Platform, does not convey any ownership interest in the Company or the intellectual property contained therein.


User Privacy
You acknowledge that your profile and certain information you provided when creating your account will be made available to the public. Information such as your Tippr ID, your photo, and your bio will be visible to all other users on the Platform. Other, information provided, that is required to set up your account will not be shared with other individuals, companies, agencies, advertisers, or third-parties, other than our payment processor and when required by law.
Indemnification

By entering into this Agreement and using the Application or Service, you agree that you shall defend, indemnify and hold the Company, its licensors and each such party's parent organizations, subsidiaries, affiliates, officers, directors, Users, employees, attorneys and agents harmless from and against any and all claims, costs, damages, losses, liabilities and expenses (including attorneys' fees and costs) arising out of or in connection with: (a) your violation or breach of any term of this Agreement or any applicable law or regulation, whether or not referenced herein; (b) your violation of any rights of any third party, including providers of services arranged via the Service or Application, or (c) your use or misuse of the Application or Service.
Privacy

The information you provided Tippr with when creating your account is encrypted and stored on our server with the exception of your financial information, which is stored on the secured server of our processor (Stripe) and is fully encrypted and tokenized. Tippr does not have access to your credit card or bank information.
Copyright

Company abides to U.S. Copyright laws and by using the Platform, user also agrees to abide by these laws. If the Company learns of any copyright violations, it will notify the user and provide the opportunity to correct the issue. Any prolonged, or repeated violations will result in the termination of the user's account.
Disclaimer of Warranties

The Company makes no guarantee as to the quality, availability or reliability of the Platform and or any transactions completed or attempted while on the Platform. User does not hold Company responsible for any payment failures or errors caused or experienced on the Platform. At no time shall the Company be held liable for any damages, punitive or financial, direct or in-direct, loss of income claimed while using the Platform. The Company is not responsible for losses of data and account information caused by internal or external forces such as outages of the internet or cell service and server problems.